When it comes to helping your customers remodel their homes, we all know that reputation matters. Your reputation is ultimately how your customer decides whether or not to trust you to make major structural changes to their home.
To bridge that gap and make your customers comfortable in doing business with you, you can broadcast and build your reputation online. Before you ever arrive in the home, most of your customers have read your online reviews!
The trick is that some review sites are better than others. Here are the ones we would recommend as the best investment to build your reputation and grow your business.
1) Your Google Business Listing
The very best website to build your reviews on is well known – Google!
Google gives you a great, free tool to post information, reviews, and photographs about your business. Unlike certain other companies out there, Google has no ulterior motive to get you to advertise or buy memberships, they just want the public to know how great your business is.
One recent development, Google now pipes in reviews from across the web. Not to worry, only positive reviews are piped in. Just be sure to have 3 sources out there with great reviews for Google to choose from. That's one more way Google helps you promote your business!
Have a look at our partner Hullco – they include everything a customer would need to know to trust and do business with you!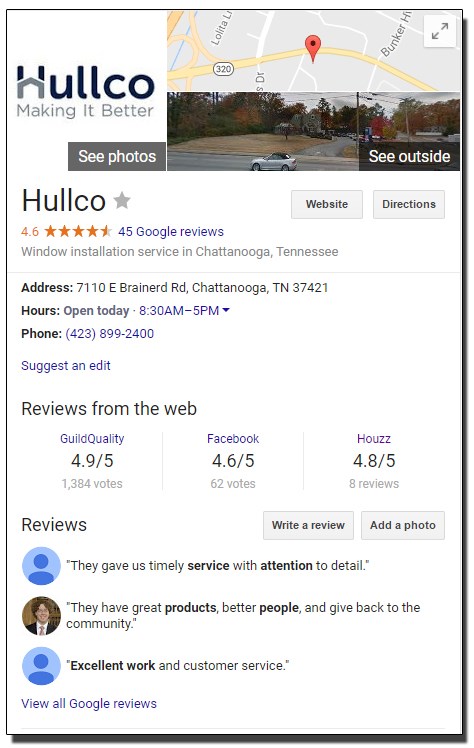 2) Houzz
Houzz is just an all-around great platform. It's easy to request reviews, even from other contractors you do business with. Your customers have the option of leaving high-quality photos of the work you've done. Plus, all of your photos are organized into sleek Idea Books, which are perfect to bring up in the home or to email out right at the end of a conversation.
The best of all? Houzz is a free platform - you can advertise, but you don't have to for great results on the platform.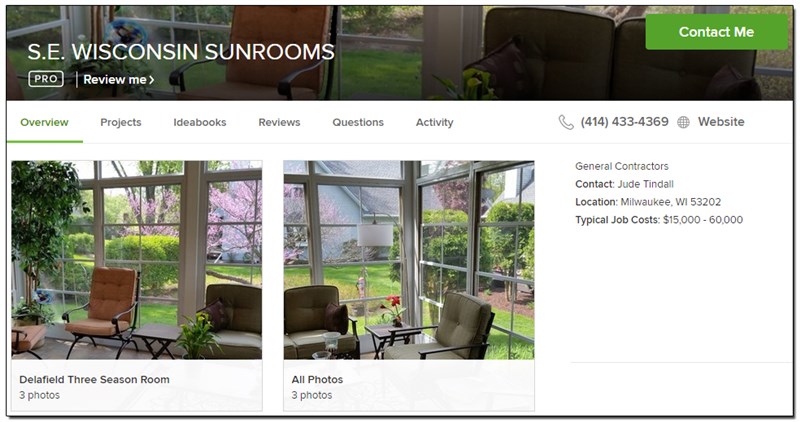 Our partner S.E. Wisconsin Sunrooms has great photography that really stands out on Houzz – see the quality of their sunroom products for yourself!
If you were going to invest your time anywhere other than your own website and Google, Houzz should be your next pick!
3) Facebook
Your Facebook Business listing is a valuable asset in many ways. You can post videos, images from past jobs, and reviews, all in a place where your customers can easily reach out to you!
One thing you have to bear in mind, if a customer has a complaint, they're probably going to find you on Facebook. Have a plan to address any negative feedback you get, knowing that your reply will be public and will probably be seen by potential customers.

It's easy for customers to see at a glance that our partner Comfort Windows is a great local remodeler – make sure that you build some reviews so that you appear in the same light!
Pound for pound, when it comes to growing your business, investing time in earning reviews is one of the best investments you can make. If you are looking for a product that lasts, custom-built right here in the USA, that will be sure to prompt rave reviews from your customers, we should have a conversation!
There are two reasons our dealers have such great reviews. The first is that we are highly selective, partnering with only the best local remodelers, the sort of companies that place a heavy emphasis on customer satisfaction and life-long relationships. The second factor is that our sunroom and conservatory products simply cannot be matched, giving you a high-value product to include into your portfolio.
Would you like to learn more? Simply give us a call at (419) 866-7705 Ext: 109 and we can talk through our offerings for your company. If you'd rather we give you a call back click here to request a callback at your convenience.
---
Tags
online reviews
sunroom reviews
sunroom companies
Quality Sunroom Manufacturer
---